Grand Willow Inn Wedding Photography
Grand Willow Inn Wedding Photographer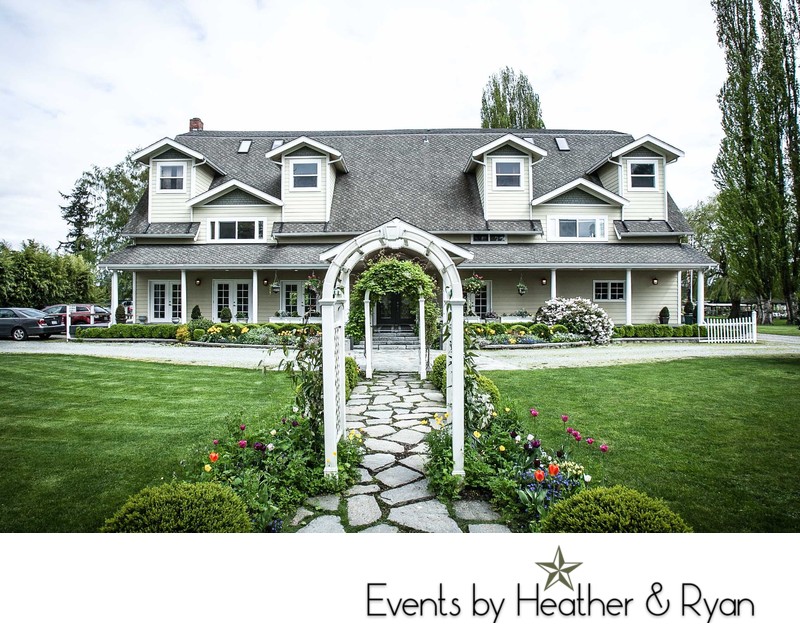 Grand Willow Inn is one of Skagit County's premier wedding venues, dating back to 2006. This venue has a gorgeous space for both indoor and outdoor weddings (since we all know that the weather in western Washington can be unpredictable).
Outdoor wedding ceremonies can be held in the front courtyard which boast a beautiful stone path that leads through vine covered arbors to a stunning 14′ Victorian Gazebo. With the grand willow, white birch and flowering cherry trees, ferns, hydrangeas and other year round foliage- photo opportunities abound. The back courtyard is beautiful with it's vine covered 10′ pagoda and cafe lights across the sky- a favorite during reception time especially in the summer.

Indoor wedding ceremonies can be held in a 1500 square foot Grand Room. This beautiful, natural lit room is stunning as it glides through 6 sets of double french doors that look out onto both front and back courtyards. The balconies and 18′ high ceilings make photographs beautiful and timeless. After the ceremony guests are invited into The Carriage Room with over 2000 sq.ft. of wood floor and white elegant rosette panels cascading from ceiling to floor that are back-lighted with fairy twinkle lights and have a choice of colored up-lights if you so choose. Indoor spaces are air conditioned so if the weather issue is heat rather than rain our indoor space is the ticket.
This venue boasts a beautiful Bride's room equipped with lots of mirrors, beautiful natural light, whitewashed natural wood floors and an antique white cast iron bed. The Groom's room is a great place for the guys and even has a TV in case some sporting event is playing that can't be missed.