Album Ordering Instructions
Album Ordering Guidance & Instructions
---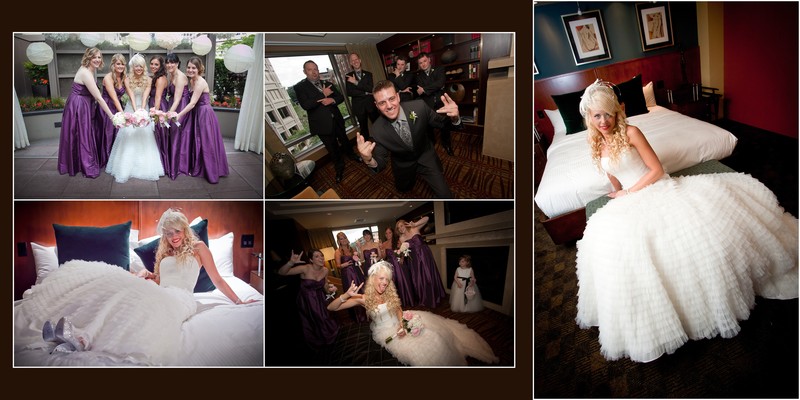 With your wedding day a memory, we'd like to familiarize you with our album ordering process. If you purchased the Caesars, Venetian, Bellagio or Wynn wedding package, you will want to read this email carefully and in its entirety to ensure you understand the steps involved with ordering your album. For those of you who ordered our Palazzo and Monte Carlo package wedding package, you can still upgrade to an album package, even after your wedding is over.


Over the years, we've learned that albums are best created when both the couple and the studio are involved in the process. We may not realize the sentimental value in some of the photographs, or we may choose photographs that you may not like to have in your wedding album. For that reason, we ask that our clients pick all the images for their album. Once you've chosen the images, we will begin the process of designing the album for you.

You have up to one year from your wedding day to order your wedding album. If you have not ordered the album after the one year mark, the album portion of your wedding package will convert to a studio credit. Albums ordered after the one year mark are subject to the current pricing in effect at the time the album order is placed, which means there may be an additional cost to order your album if it is ordered after this point.
The Album Design Process Explained - The album design process has several parts in order. Those parts are:

Client: Photograph Selection (can be done anytime after your wedding)
Studio: Album Design (takes approximately 2 to 3 weeks)
Client: Album Design Revision Request (can be done anytime after our initial album design is presented to you) or
Client: Album Approval (when you are completely satisfied with the album design and placement & selection of images)
Studio: Album Order (from order to delivery takes approximately 8 to 12 weeks, depending on the time of year)
We realize that life happens, and the album photograph and approval times vary depending on our client. We've had clients approve designs two weeks after their wedding, while others wait a year or more to begin the album design process. So with that said, nothing is unusual to us....but it is important to know that we won't begin the design until you tell us to.
How To Order Your Album

To start the album design, you'll want to log into your client portal on ShootProof. When you get to the portal, use one of the following email addresses, depending on the package you ordered and the album you are selecting the images for. These email addresses are specifically set up to capture your favorite images.
For Caesars and Venetian, use album1@eventsbyhr.com as your login. For Caesars, you may select up to 75 images; for Venetian, you may select up to 125 images for your album.
For Bellagio and Wynn, use album1@eventsbyhr.com for your 12x12 bride & groom album and album2@eventsbyhr.com and album3@eventsbyhr.com for your 10x10 parent albums. For the Bellagio and Wynn, you may select up to 125 images for the 12x12 Bride & Groom album and 75 images for each of the parent albums.
Please note, it is important that you email our studio at vip@eventsbyhr.com to let us know once you've completed your photograph selection. Even if your folders contain the correct amount of images, we won't know you've finished your selections until you tell us.
Album Proofing Website
Once you submit the photographs for our studio to use in your album design, we will start the design process. Once this is complete, you'll receive an email from our proofing vendor, AlbumPrufr.
Website to Proof: http://www.prufr.com/login
Once you're on the site, you'll be able to see each spread. To approve the spread, check the 'Approved' box on the bottom right of the screen. If you want to suggest changes, click on 'Show Comments', then describe the changes you want made. Due to the inherent nature of album design, you will need to be as specific and descriptive as possible with regards to any changes you want made.


Incorrect:
"Change order of the pictures"
"Move the pictures around"
"Resize the pictures"

Correct:
"Make the top right picture of the groom larger"
"Move the picture of the bridesmaids from the top left to the bottom left of the left side of the spread"
"Replace the picture of the wedding ring with one of the cake"

By being as specific as possible, it helps our studio to ensure we give you the best album ordering experience possible.

Please note, it is best to ensure you submit all the requested changes at once, if possible. Album changes take approximately 3 to 4 weeks to process.
Album Approval

Once you are happy with your album design, you must email us and let us know you approve the design. You will then receive a confirmation email that we've received your order and that we've placed your album order. If you do not receive this confirmation email from us, your album is not ordered and you should follow up with our studio to ensure we've received your approval.


We realize this process may seem arduous, but it is important to know the albums we provide to our clients are expensive to produce since they are made of the finest materials. This makes these albums just as expensive to correct if mistakes are made in either the printing or binding. We have designed our album ordering process to minimize the chances that a mistake is made in the design or ordering process. In the end, this will ensure you are completely happy with the album we provide to you.



Please contact our studio if you have any questions.